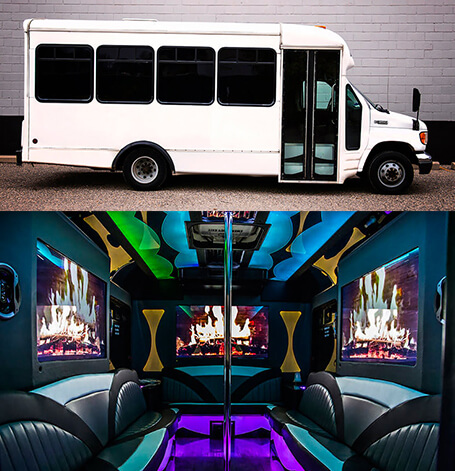 20 Passenger Party Bus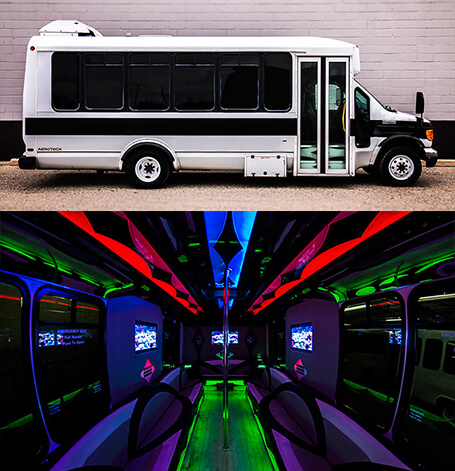 24 Passenger Party Bus
Welcome To
Fort Myers Party Bus!
If you've been doing some searching around the net for reputable companies which are providers of luxury transportation, your search can end here! There is no disputing that we are Florida's finest and best when it comes to vehicles and service. Our Party Buses are top of the line, and our staff (including chauffeurs) are second to none when it comes to being friendly, proficient, and unsurpassingly refined in their ability to provide world-class service. We have worked unremittingly to insure that we have both areas of our business at the highest level possible to provide you the degree of service you deserve.
Now that the introductions are out of the way, you might be wondering exactly why one might need a Party Bus? Well, think of them as limousines which are really roomy, comfortable, and more stylish than you'd ever imagine a bus could be! You'll find a Party (or limousine) Bus to be suitable for just about any occasion where you'd think first, of an automobile based limousine.
When you decide to do business with us, you'll be employing the services of the most professional and highly trained chauffeurs in the business. Our high standards have led us to the point where we only accept the best of the best to come and be our partners in providing excellence. This is so we can be sure that you are receiving the service and accommodation that you really deserve.
Our Hottest Events!
There really are a million reasons to rent one of our party buses (or two or three if you're having a really massive party!), but we thought we should talk about some of our most popular events. We do a lot of business for beach and sightseeing tours, wedding days, bachelor parties, bachelorette parties, and concerts. Here's why you should choose us for them:
Our BEACH + SIGHTSEEING TOURS are the best around, really giving you the opportunity to explore the gorgeous beaches and natural sights that make up our city and the surrounding areas. You're of course dealing with a short time in which to party and live it up, so you want to cram as much fun into your time out as possible. That's much easier to do when you've got a deluxe vehicle at your fingertips and a professional chauffeur at your beck and call. Don't waste all that time figuring out the logistics of getting from place to place. Leave it up to our pro drivers and just enjoy the ride!
When it comes to your once in a lifetime WEDDING DAY, there's nothing better than having a beautiful party bus to take care of the transportation. It's so lovely to be able to travel with your whole wedding party in one vehicle, with your best friends and siblings and whatever loved ones you really want to share your special day with. Traveling with us removes so much of the stress and hassle from your wedding day and just leaves you with pure enjoyment. Celebrate your union with the one that you love in the ultimate style and comfort.
Of course, where we're perfect for wedding days, we are also ideal for BACHELOR PARTIES and BACHELORETTE PARTIES! Better yet, if you book a bachelor or bachelorette party at the same time that you book your wedding day (or a similar event, such as a bridal shower), we'll be happy to offer you a special discount! Whether you're planning a pre-wedding celebration for the guys where you hit up all the hottest bars, one for the girls where you have a spa day, a modern co-ed celebration that blends the two, or something completely different, we'll be happy to help you plan it and make it a complete success.
CONCERTS and SPORTING EVENTS are another great reason to give us a call, removing all the stress of traffic and parking and just leaving you with the ability to actually enjoy the ride there and back! Party it up with your friends, either gearing up for an amazing performance or getting in the spirit for a great game! After the grand finale or the final touchdown, head back to the bus and out to the best bars in town to live it up and enjoy yourself! Being able to drink on board is another bonus that you wouldn't be able to enjoy in your own vehicle. The best tailgating experience ever!
What kind of event is it that you are planning? We can help! Need service someone else? We can make suggestions, like our friends at Milwaukee Limos. Whatever you need, give us a call, let's make it happen!
Features:
Our service is readily available on every day of the year!
Expertly professional chauffeurs.
Booking agents always available.
Vehicles maintained by master mechanics.
Lavishly equipped interiors.
CD & iPod/MP3 capable audio systems.
Limo interiors are kept flawlessly clean.
Luxurious, comfortable flooring in all vehicles.
Chauffeurs always carry a GPS.
Bars and/or built-in coolers in all vehicles.
Events:
We are aptly equipped for any event you can throw at us! You can trust us to add flair, comfort, and enjoyment to your next big event.
Birthday parties
Wedding experts
Bachelor parties
Bachelorette parties
We take all the hassle out of concerts and events
Unforgettable tailgate parties
Florida sports team trips
We are a great option for charity events
Enjoy a spectacular night on the town